Building insights and tech bridges at Web Summit
ESOMAR members take the stage at the world's leading tech event to explore a cookies-less world, the future of polling, gender equality, and the future of remote work.
As ESOMAR approaches its 75th anniversary in 2022, it was amazing to see that the issues being discussed at Web Summit in 2021 are those that we have championed and advocated for on your behalf, since we were created; clearly, respect for the individual, respect for their data, and a fundamental commitment to using data ethically remain ageless and just as important as ever – if not more so, in this digital world

Finn Raben, Director General, ESOMAR
Our third visit to Web Summit
This year represented ESOMAR's third visit to the Web Summit, and was probably the most gratifying, as all of the topics we have been constantly promoting together with you, were clear themes of discussion across all of the stages – and there were lots!
Data Privacy, Data Protection, Freedom to Publish Opinion Polls, the Quality and Importance of Polling, Data Ethics and the Ethics of Artificial Intelligence, were all discussions and debates in which ESOMAR featured. In addition, ESOMAR facilitated a masterclass on data presented to the Women's G20 Forum on role discrepancies between genders, and a masterclass on combining disparate datasets. ESOMAR was also represented in a panel on the implications of remote working, in a judging session on start-ups, and chaired a session on future data applications, on the last day of the Summit.
Bringing your community onto the frontstage
A huge amount was packed into the 4 days, ensuring your views and unique strengths and qualities were clearly communicated to both the established and emerging tech world through the ESOMAR presence. Huge thanks are due to ESOMAR members who contributed - Henri Wallard from Ipsos France, Urpi Torrado from Datum Internacional Peru, Jon Puleston Kantar Profiles UK, the comms "gurus" from Ipsos – Pauline and Esthelle! – as well as our avid supporters Joaquim Bretch from Netquest Spain, Orkan Dolay from respondi Germany, and Dmitry Gaiduk from CoolTool.
Special words of thanks
Of course, no report on the Web Summit would be complete without a very special word of thanks to our President Kristin Luck, who was tireless in her presence and contribution across the multiple stages, and Marie-Agnes and Kim, who were the "engine" behind our presence and the social media clips that communicated all we were doing.
From left to right: Henri Wallard (Ipsos), Pauline Cueff (Ipsos), Marie-Agnes Mourot de Lathyle (ESOMAR), Estelle Cathala (Ipsos), and Finn Raben (ESOMAR)
Inspired to join us next year?
Thank you Web Summit for having us – we will be back next year, and we will continue to support your views, strengths and unique advantages in this tech world!
So if you want to be part of the journey for next year, do get in touch with us. We'd love to have you join our delegation and support our efforts to promote the community and contributions.
Impressions from your ESOMAR Web Summit delegation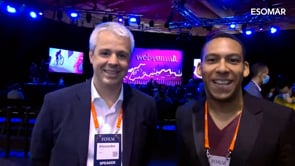 Kim Smouter interviews Alexandre Guérin (Ipsos France)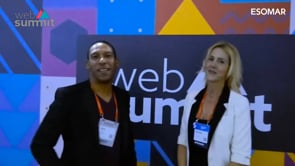 Kim Smouter interviews Kristin Luck (ESOMAR) on her impressions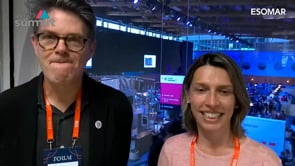 Interview with Jon Puleston (Kantar) and Urpi Torrado (Datum Internacional)
Kim Smouter interviews Dmitry Gaiduk (CoolTool)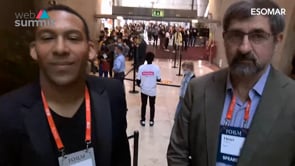 Kim Smouter interviews Henri Wallard (Ipsos)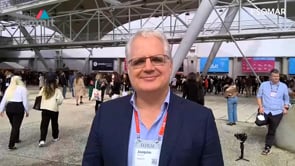 Interview with Joaquim Bretcha (Netquest)
Finn Raben
ESOMAR Staff, Director General at ESOMAR
Finn Raben is a "third culture child" born in the Far East and who grew up in Europe and the Middle East. He went to university in the Netherlands and Ireland, is an Honours graduate in Languages, with Post-Graduate degrees in Business Administration & Marketing Management. He speaks four languages fluently.
He has spent most of his working career in Market Research, and prior to joining ESOMAR, had worked at Millward Brown IMS in Dublin, AC Nielsen, TNS and most recently at Synovate.
Finn is a passionate fan and advocate for the research community in all its forms - analytics, research, insight and consultancy - and works very closely with the ESOMAR Council to ensure ESOMAR is "fit for purpose" for both the current, and next, generation of researchers.
Finn is an ex Officio Director of MRII, the online educational institute partnered with the University of Georgia (USA); he serves as an external examiner at the International School of Management in Avans University (Breda, NL) and has recently been invited to join the advisory board for the Master's of Marketing Research programme at Southern Illinois University Edwardsville.