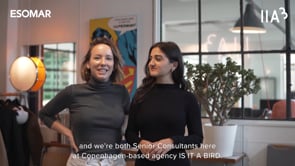 Welcome to Virtual Academy On-Demand
This exclusive on-demand training offers you access to six-hours of content, split into three engaging sessions. Designed to enhance your skills at your own pace and convenience, you'll be able to download resources, see the trainer's contact information and earn a certificate upon course completion.
Overview
What can the ethnographic approach teach us about the importance of pausing? How might we harness the power of observation to enact a new kind of data collection in our work? 
 
Whilst the role of qualitative insights in business has become more and more prominent over the past 20 years, there are implicit challenges in how qualitative data 'lives' beyond the research itself and is funnelled into product and service development.  
 Might we take inspiration more broadly from the ethnographic approach to move slower and make decisions with more long-term impact? 
 
Join Sara Said Mosleh and Freya Williams for a 3-day webinar series where they explore how the ethnographic approach can be used to supercharge the work of the market researcher – and allow the wider business to bring a considered approach to exploring innovation potential.  
What will you learn?
In this workshop, you learn how to work with ethnographic observation techniques which look beyond the obvious and engage the full context of the humans and material elements being studied. You will move from theory to application as you explore the various different ways to supercharge your research and change facilitation skills through the ethnographic approach.  
Upon completion, you will have the skills needed to more confidently identify opportunity spaces based on ethnographic insights studies and awareness of how to better challenge the assumptions of speed-driven innovation.  
Who should attend?
Curious minds that are interested in research, design, strategy or innovation. We invite all to the table – and hope to engage with a variety of participants who bring their perspectives on the subject of qualitative research.  
Level of learning?  
This course does not require a specific level of expertise to attend. Curiosity and a willingness-to-challenge the status quo are mandatory.  
Programme at a glance
In this course, you'll cover:
Critical perspectives on the role of ethnography within the innovation process

How, when and where to apply observation techniques to gain deep contextual insights

Cases: Analyse and make sense of qualitative data in real-time scenarios

Best-practices on how to facilitate change using ethnographic insights



Speakers
Sara is a hybrid engineer, designer and researcher, and has for the past 10 years worked and experimented with creative innovation practices. In her daily work, she supports clients within diverse industries to drive human-centred innovation processes and bridge qualitative human insights to concrete initiatives of innovation and change. She is specifically interested in the democratisation of innovation and critical traditions of design.
Lea has a background in Anthropology and works in the space between design, strategy and insights. Her special skills lie in connecting the dots across a variety of data material; observations, interviews or quant surveys alike. She is driven by finding the magical in everyday life and turn that into clear directional insights for clients in both public and private sector. Lea finds most meaning in her work when it results in professionals with different backgrounds gather around human insights to create better product or services together.