ESOMAR Latin America 2023 Gold sponsor
Netquest was born in 2001 as a company dedicated exclusively to developing online research-solutions technology. In December 2005, the company introduced its first online panel to market research firms, recruiting by invitation only in Spain. 
Netquest's panel and data-collection capabilities are reliable resources for research institutions and businesses alike. They have been designed to facilitate the best possible consumer analysis, insights and understanding.
Netquest has begun a journey as a global digital data collector for the entire industry, with the help of GfK. Netquest remains as committed as ever to continuing to provide the highest possible quality of genuine data.
We are coming back to Latin America!
This year we are celebrating the 25th in-person ESOMAR LATAM event since its first occurrence in 1991. That's over 30 years of uniting the research industry's highest pillars of excellence in the region!
Thinking ahead, we turn to business insights, innovative methodologies, data-driven strategies, customer-centric approaches, and the tech-tools to forecast the trends of the future and beyond.
Situated in Mexico City, a bustling hub of Mexico's cultural, historical and insights epicentre.
The Early Bird deadline ends Tuesday 14 February.
Agenda
Sunday 23 April 2023
08:00 - 19:00 Onsite Registration Open
Collect your badge and conference materials
09:00 - 17:00 Workshop
Onsite Academy: Algorhythms for Glocal Effectiveness
"We believe in a region that works, explores, discovers and learns together. There are many more tunes to come; let's keep beating together to the rhythm of Human Insights. Would you like to dance with us?"

Begonia Fafian, Human Insights Senior Director at Coca-Cola LATAM and her team recently won the ESOMAR Congress Best Paper Award 2022. The paper proved the feasibility of creating research-based, AI-enabled tools capable of elevating the Knowledge & Insights area within the business, provided that corporate leadership supported it through deep, emotional, and branded communication.

Exclusively for this event, we have invited Begonia to run an onsite workshop (limited to 20 persons), to share her experience and provide practical examples of exactly what they did.
17:30 - 19:00 Let's CLICK
[Invitation Only] Research buyers and users
Join your peers and increase your inspiration tank, get feedback on projects and/or business challenges, meet new contacts and collaborators. Let's CLICK! (Clients Learning and Inspiring Clients with Knowledge).
19:00 - 20:30 Welcome Reception
In exhibition
08:00 - 18:00 Onsite Registration Open
Collect your badge and conference materials
Human Protagonists: Empathising with the Main Characters
[Client Topic]
Are you OK ZOOMERS?
Reconnecting with Gen Z in LATAM
This paper reveals how brands and marketers can reconnect with the new important cohort of consumers in LATAM: Gen Z who is not only lacking institutional and political trust but also at risk of losing connection with big corporations.
Joeri Van den Bergh, InSites Consulting, Belgium

Magdalena Garcia Grisante, Coca Cola Company, Argentina

[Industry Challenge]
Innovating through disability research
Towards an approach to research that includes people with disabilities
What disability research can teach us about innovation
Priscila Aramburu, de la Riva Group, Mexico
[Industry Challenge]
New Trends on Healthcare Research in Latin America

A Road Map for the Future Researcher
What are the trends that are currently shaping healthcare market research in Latin America? Learn from the experts useful tips to start your journey in pharma research, anticipate the challenges and seize new business opportunities.
Alberto Rosas, Fine Research, Mexico

Fabiola Suarez, Fine Research, Argentina

Laura Romero, Ipsos, Mexico
[Client Topic]
ConnAction - The new consumer immersion process for the construction of communication strategies

ConnAction - How to apply insights in communication in order to lead consumers to action.We will be happy to share the story of how after realizing that our process was no longer working, we reinvented ourselves to reconnect with our consumers.
Mónica Quevedo, Alicorp, Peru
Welcome to the ESOMAR Latin America 2023 "The Magic of Insights" ahead of the first round of presentations we'll start off with a collage of industry leaders and business talks. We will also open with an exciting Keynote speaker.
ESOMAR Update: Freedom to Publish [LATAM Edition]
ESOMAR and WAPOR (the World Association for Public Opinion Polls) have explored the ability of those working in the field of opinion polling to conduct surveys and report on the attitudes of the public and election preferences in Latin America. This will be the eighth report in the series. Join Kathleen Frankovic, ESOMAR Professional Standards, and guests to discuss the findings.
Macrotrend: The Metaverse
Industry challenge
METAVERSE it is here, how do I eat this?
Challenges and pain points from a brand, stakeholders, researchers and developers point of view.
We all want to be part of the Metaverse but no one knows how to do it. Its trendy, sexy, important, but intangible. We have been working with brands and institutions finding the path towards it. We will share brand/stakeholders/researchers challenges
Laura E. Ruvalcaba, Brain - Brand Investigation, Mexico

Martha Rivera-Pesquera, Ipade Business School, Mexico

Javier Rosas Delint, Kimberly Clark, Mexico

Luis Cervantes, Virtus, Mexico
Acceleration: Innovation at the Speed of Light
Methodological Innovation
Increasing eCommerce Sales with AI-Powered Insights
Using Artificial Intelligence to "See" Images as Humans Do
Managing hundreds of SKUs and the convoluted e-tailers' guidelines is painful. By revolutionizing computer vision technology mapped to the leading behavioral database, teams can now optimize their online images and see sales lifts of 45-58%.
Ruben Nazario, eFluence™, a Division of Behaviorally, United States

Gustavo Alvarez, Behaviorally, Mexico

Adriana Aguilar, Head of Insights, AlEn Mexico
Case Study
Biometric, cognitive and predictive validation in Agile UX for a Colombian Fintech
Can the continuous improvement of the user experience of a Colombian Fintech be certified by applying Neurosciences in Agile UX?
What benefits does behavior pattern validation with biometric technology bring to UX in Agile environments? Can the Affective Interactions Model Framework positively impact the OKRs and KPIs of a Fintech? Can it be validated within a sprint?
Raphael Alex de Sousa, qiip, Mexico

Alexis Brantes Rodríguez, UserEmotion Oü, Estonia
Industry Challenge
Goodbye Chester!
No more Chester Cheetos in package due to Mexican Regulation
One of the most iconic characters had to be removed: no more Chester for Cheetos. A successful research strategy was developed using System-One and testing through a new Agile Digital hybrid (QUAL+QUANT) methodology: Digital Room
Paulina Castillo, PepsiCo, Mexico

Veronica Islas, Brain - Brand Investigation, Mexico
18:30 - 23:30 Networking party sponsored by Netquest
08:00 - 17:00 Onsite Registration Open
Collect your badge and conference materials
Macrotrend: Business Adaptation Strategy
[Industry Challenge]
Easing the Effects of Inflation in Latin America
Strategies to navigate a transitioning market
Based on extensive research studies developed by SKIM across the globe, we'll share proven strategies our clients have adopted to successfully tackle inflation.
Patricia Fujisawa, SKIM, Brazil
Metamorphose: Changing Data into Audience Understanding
[Industry Challenge]
Put Down the Hammer!
With a hammer in your hand, every problem looks like a nail.
Information is no longer enough, action is now imperative and the research "established sector" must move into 1:1 knowledge management.
Cesar Valderrama-Nicholls, Datexco Company, Colombia

Claudia Velasco-Henao, Caracol Radio (Grupo Prisa), Colombia
[Case Study]
Enhancing an advertising space with a 360º single-source view of its audience. Using a Symphony of data to gain in-depth knowledge of the Mexican audience on 4 different TV channels.
The media measurement future alternative
Ben Boix, Netquest, United States

Daniela Martínez, A+E, United States
Shaping the Future: Predictions & Lifestyle Changes
[Case Study]
Shape the future on uncertain times.
Modeling to predict consumer behavior to navigate uncertain times by adapting our portfolio, marketing activities and supply.
How data modeling can help you to navigate through uncertain times (pandemic), to predict behavior even before consumer knew?
Elisa Romo De Vivar Villasana. Danone, Mexico

Jorge Galvan, Danone, Mexico
[Case Study]
Framing lifestyles changes effectively
How to sell climate change policies that affect our pockets and habits?
How data modeling can help you to navigate through uncertain times (pandemic), to predict behavior even before consumer knew?
Fabian Echegaray, Market Analysis, Brazil

Solange Alfinito, UnB/SCORAI Brazil, Brazil

Camila Cassis, Market Analysis, Brazil
Research Re-imagined: Contempory Tales of Transformation
[Client Topic]
What´s Pepsico doing to get better, stronger, and faster insights than ever before?
The use of AI to get insights and their curation to get local & human.
The future of Research is here! Pepsico is leveraging Global Business Services and partnering with Agencies to bring the power of AI and Machine Learning into our daily lives
Claudia Sciarretta, PepsiCo, Mexico

Paulina Castillo, PepsiCo, Mexico
[Industry Challenge]
Storybranding in Researchland.
An "Insights" crusade challenging us all.
We know that research needs to deliver accurate and deep results but neither the most robust methodologies, nor data science, nor the most innovative study are of any use if the audience yawns, gets bored or turns their eyes to cell phones or inboxes
Diego Alarcón, The Coca Cola Company, Mexico

Daniel Lagache, Cooperativa Mental, Argentina

Damián Gandolfi, Cooperativa Mental, Argentina
The Magic of Diversity: A Client Panel
[Panel Discussion]
We will have a conversation with business leaders about the benefits and risks associated with addressing these important societal issues from a brand's communication perspective, through increased authentic representation of local communities.
Manuel Garcia Garcia, Ipsos
17:30 Closing & Farewell Drinks
Until we meet again, ESOMAR and the final Keynote speaker will delivers thier closing remarks. This will be followed by farewell drinks.
Invitation from our Programme Committee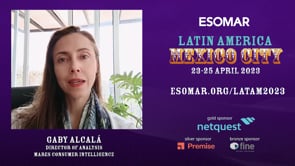 Gaby Alcala welcomes you to Mexico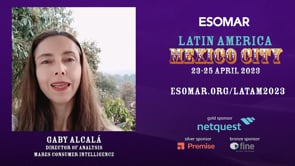 Gaby Alcalá le da la bienvenida a México
Your expert Programme Committee
The high quality of the content at every Congress is made possible by the hard work of the Congress Programme Committee, who review the papers and presentations submitted to deliver the best possible insights for you.
Alejandro Salgado-Montejo PhD
Co-Founder at Atrianna
Scientist, disruptor, teacher, PhD Experimental Psychology from the University of Oxford. I am currently leading Atrianna where we combine behavioral, cognitive, and social models to enhance the predictive power of algorithms and apply them to predict market trends and consumer behavior. I have been involved in 5 different startups (tech and machine learning, consulting, HR, and market research). I have had the opportunity to work with more than 40 brands in 25 countries (Asia, Europe, and the Americas), including nine fortune global companies.
Gaby Alcalá
ESOMAR Representative, Director of Analysis at MARES Consumer Intelligence
Gaby Alcalá is an applied mathematician from ITAM (Instituto Tecnológico Autónomo de México), specialized in statistics.
She loves studying, already with three more diplomas, as well as a Master's degree in Public Image Engineering. Her passions include her family (married, with 1 son), diving, traveling the world and will never say no to a good wine!
She has worked in the area of ​​market research for more years than she would like to tell, being on both sides, supplier and customer; in Mexico and Central and South America.
Since 2005, she is partner in MARES Consumer Intelligence where she is the Director of Analysis. And since 2013 she has been a professor in the Master of Public Image.
Patricio Pagani
ESOMAR Committee Member, Founder at The Black Puma
Patricio Pagani is the founder of The Black Puma, an Analytics Growth Hacking, Data Strategy and AI firm that blends Data Science and Tech to help companies reinvent themselves. Patricio is also a Digital Transformation catalyst that is helping large organizations embrace what the future holds for them. An Angel Investor in data-driven technology start-ups (mobility, IOT), Patricio has a portfolio of companies he's advising. Also, he is a Board director at Infotools, a leading provider of market research software tools & services.
A sought-after keynote speaker at various marketing forums, you will find Patricio discussing what the future may hold for the Business Intelligence and Market Research industry. Patricio used to be the president of the New Zealand Market Research Society for several years and is currently the ESOMAR representative for Argentina and a member of the Associations Executive Committee.
Begonia Fafian
LATAM Human Insights Senior Director at The Coca-Cola Company
Begonia received a double-degree in law and economics from the ICADE business school in Madrid, and later a PDD from the IESE Business School in Navarra.
Begonia's 25+ years' experience in Consumer Behavior and Brand and Trade Marketing make her perspective an invaluable one, but it is her strong belief in the exponential power of collective genius to drive growth, which makes anyone eagerly willing to listen to her.
Begonia is a relentless status-quo challenger, with a sharp focus on uncovering high-impact insights that shape, maximize and empower growth strategies in the extremely-complex FMCG marketplace.
Alejandro Prieto
Consumer & Shopper Insights Director Latin America at The Coca-Cola Company
Insightful researcher with international experience. More than 20 years understanding consumers, customers and shoppers through different research experiences including standard methodologies, modeling and data science, neuroscience and even creating new ways of doing research or analyzing data. All these with the only purpose of creating business value and enable growth

Extensive experience in all aspects of market research for well-known local and global brands in diverse categories, demonstrating strong analytical and problem-solving skills, insightful and innovative decision-making and providing long-term strategic vision.
Thyago Simões
CX Research Coordinator at Itaú Unibanco
research professional, with 13 years of experience and expertise across consumer insights, including: brand tracking, service quality, market intelligence, digital marketing, licensing & distribution deals, and contract negotiation. Currently coresponsible for the iLAB, a tool that investigates human behavior and user's journeys, to build actionable insights and recommendations to develop Itaú's digital products and services.
He has a degree in Finances with a specialization in Market Intelligence and also a degree in Sociology.
Pilar Bermúdez Núñez
Gerente Insights & branding at Gloria
Experience in strategy and innovation for Latin America B2B and B2C industries, with high capacity to multicountry good-working, building confidence across disciplines, speaking multiple professional languages, and translate needs into opportunities.

A strategic approach to what matters to the business; ability to lead through influence, reacting appropriately in high-pressure situations and talent for prioritizing quickly in ambiguity. Strong analytical sense to evaluate ideas, creativity, and ability to think "outside the box" considering the big picture about the business goals and how to achieve it through change and experimentation.
ESOMAR Members save on events!
ESOMAR Global events may only last a few days but we want you to be a part of the Insights community for longer. That is why we have discounted the ticket if you decide to become an ESOMAR Member: purchase both and it's less than a standard ticket.
Your ESOMAR Membership will entitle you to discounts from reports and publications to online courses, and access to the ESOMAR Resource Library and the ESOMAR Membership Mark, signifying your commitment to the ICC/ESOMAR Code of Conduct.
Want to support the event?
We're on the lookout for business partners interested in sponsoring our community's biggest event. Don't miss the opportunity to get your brand on the leading stage for Insights and Analytics professionals. Reach out to find out how we can work together to achieve your goals. Join the sponsors list and boost your global reach!
*While we hope to host you in Mexico City, this will of course be subject to prevailing COVID-19 measures.
Search past initiatives by tag