Your journey to the stage...
Step 1: Inspire us with a great speaking proposal
Do you have great ideas? New insights to share? Calls to action for the industry?
If you think what you have to say is important, impactful and offers actionable learnings, then we encourage you to summarise the key ideas and send them our way! Keep a close eye on our events page and our newsletters for upcoming calls for speakers. Deadlines vary and we wouldn't want you to miss them!
Step 2: Get selected!
Speaking proposals are selected based on the event's theme, the diversity of submissions received, what kind of direction the programme committee wants to take...and of course how relevant and insightful the content is!
If your ideas are accepted, we will get in touch to walk you through the next steps.
Step 3: Prepare your paper & presentation
Once accepted, you'll be tasked with crafting a presentation (headlines only) and writing a paper (a more in-depth analysis) to share with the audience and our community.
We've included guidelines below to help with both and rest assured, the ESOMAR team will be there to support you every step of the way!
Additional presentation tips from our online event platform ON24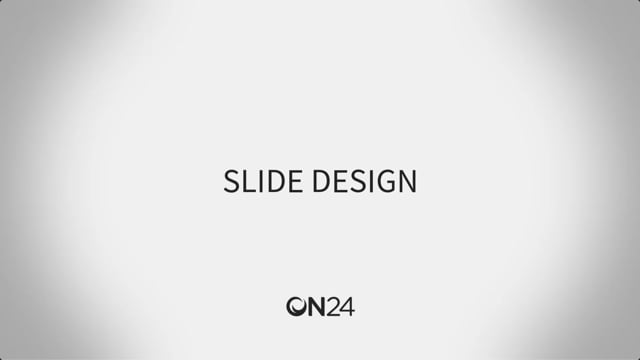 Killer slides for online presentations
Ensuring your story's success...
Do I have to attend a speaker's rehearsal?
AV, session flow, Q&A, and more!
Yes. In order to give our speakers and delegates the best possible experience, we organise a compulsory speaker rehearsal, often the day before the event starts.
This rehearsal enables speakers to see each other's presentations, to think about the questions they would like to be asked during their session's Q&A and to familiarise themselves with the audio-visual equipment (a technician will be present).
The event's Programme Manager will communicate the rehearsal schedule before the event so speakers can plan accordingly.
The meeting should last approximately 30 minutes and is focused on the technical side; the AV, choreography and Q&A will be discussed.
A pre-event conference call may also be organized with the speaker and the session chair to ensure the content direction of the final presentation.
How can I promote my participation?
Banners, social media, and more!
Some ideas:
Add the digital banner received from your project manager to your email signature and/or share alongside a quick note in an internal newsletter or on your website. Please be sure to hyperlink with the event page.

Leverage your company's emails, newsletters, press releases, web calendars

Record a video for us to include on the ESOMAR website, in email campaigns and/or for your own communications

Reach out to contacts through any of your and/or your company's social media channels…
Social media:
Twitter – post the video you recorded, or a funny gif/photo, and tell everyone why you're excited for the event. Be sure to @ESOMAR

LinkedIn – share some headlines of your work, ask some questions, provoke people to reply. Remember to include @ESOMAR

ESOMAR also uses:
Instagram: @esomar_hq
Facebook: @esomar
YouTube: #esomar
Where applicable, follow ESOMAR and like/love/share/re-post/re-tweet our messages. The more contacts and networks reached, the more delegates and greater audience to connect with at the event!
BONUS: we're happy to offer great discounts for groups of three (or more!) wanting to join AND/OR for those 30 and younger (YES!).
Can I get the recordings and/or decks of event presentations?
ESOMAR ANA, on-demand
No. Parts, if not all of an event, will be recorded and in those recordings, the presentations shown.
All video recordings and conference papers are available in our digital library ANA for ESOMAR Members. For more information about Membership benefits please visit our membership pages or contact our membership team at member.relations@esomar.org
Can my organisation sponsor the event?
Contact us!
If you're speaking at an event, you also have a great opportunity to showcase your organisation as a sponsor. Your organisation can sponsor an event and benefit from a wide range of business partnership opportunities to help you reach your goals. If you haven't been accepted as a speaker via a proposed outline and review by a programme committee, ESOMAR events almost always feature sponsored speaking slots to promote your expertise to a global audience. Reach out to business@esomar.org for more information.
After the event...
Your recorded performance and written paper
You may be interested in getting a conference video recording after an event. We do not provide recordings separately. However, all video recordings and conference papers are made available in our digital resource library by ANA for ESOMAR Members a few weeks after the live event. Papers will also be sent via email to all delegates.
Your entry for event awards
When you speak, you (often) participate in the Best Paper and Best Presentation Award competitions. To celebrate the most inspiring and impactful ideas and presenters, we promote the 1) Best Paper Award voted on by the event's programme committee and 2) the Best Presentation Award, voted on by attendees. Beyond these two, there are other awards that can be won (especially at Congress)! Check out below for an overview...