Staying ahead of a changing world
The insight function is extending beyond primary data collection and analysis to managing, synthesising and analysing data from a diverse range of sources, often evolving the use of new analytic concepts and techniques. The result is an entirely new approach to insights wherein insights, and analytics professionals assemble and analyse large databases to uncover patterns and deliver powerful new insights.
The "ESOMAR/GRBN Guideline When Processing Secondary Data for Research" aims to assist you to stay ahead of the curve whilst keeping you on the right side of ethical and legal requirements.
What do we mean by Secondary Data?
This guidance will apply in your use-cases that rely on secondary data, meaning data that already exists. This data may come from a wide variety of sources, including:
Transactional databases created when data subjects interact with organisations;

Social media networks; syndicated data; sensors and scanners that comprise the Internet of Things;

Data aggregations constructed from a variety of sources;

and many other similar types of data.
Evolving guidance to keep up with you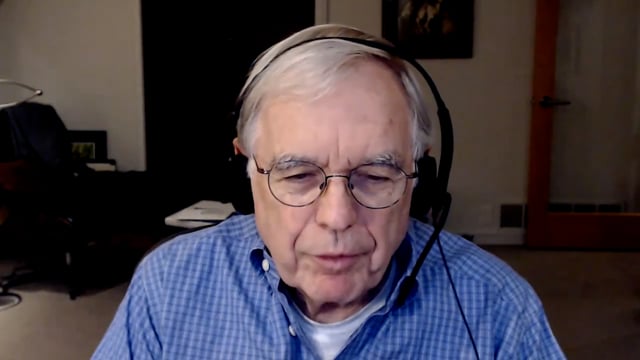 Hear from Reg Baker, Debrah Harding, and Judith Passingham on the vision and how this guidance on the re-use of pre-existing data for your analytics projects connects with our broader efforts to provide you with fit-for-purpose advice. Find out how your guidelines are evolving to meet your requirements and accompany you in the challenges you face in your insights and analytics projects.
Launch of the ESOMAR/GRBN Guideline on Processing Secondary Data for Research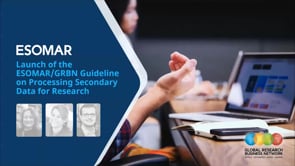 To learn about how to deal with the legal, ethical, and privacy requirements and client needs for transparency and quality, check out this webinar on best practices in working with secondary data for research.
Three core principles underpinning the guideline
Transparency
Transparency when collecting personal data from participants.
This includes being transparent about what information is collected, why it is collected, with whom it will be shared, and in what form.
Protection
Protecting personal data collected and used from unauthorised access or sharing.
This is particularly for any information directly collected or re-used in your projects and information shared with other parties.
Duty of Care
A duty of care that prevents harm to participants or reputational damage.
This goes from ethical behaviour to protect participants to ethical behaviour towards business partners and the public.
Meet the Project Team
This guide was produced by a dedicated team of international experts in ethics and compliance, ensuring the guidance is informed by global best practices and real-world experiences. Meet your project team:
Past ESOMAR Ambassador for North America at ESOMAR
Reg is the North American Regional Ambassador for ESOMAR, the global voice of the data, research and insights community. He also serves as a consultant to ESOMAR's Professional Standards Committee.
Previous to his work with ESOMAR, he was Executive Director of the Marketing Research Institute International (MRII). Prior to his retirement from full-time work in 2012, Reg was President and Chief Operating Officer of Market Strategies International, a US-based custom research and analytics company. Before joining Market Strategies in 1995, he served as Vice President of Research Services for NORC at the University of Chicago.
Throughout his career, Reg focused on the methodological and operational implications of new data technologies. He writes and presents on these and related topics to diverse national and international audiences and blogs off and on as "The Survey Geek."
Debrah Harding
Managing Director at Market Research Society
Debrah is Managing Director of the Market Research Society (MRS), a Vice President of the European Research Federation (EFAMRO) and an Executive Board member of the Global Research Business Network (GRBN).   
Debrah leads MRS' standards, policy and public affairs activities.  Debrah works extensively with government departments and European institutions on all issues that impact on market and social research.
Debrah has a wealth of knowledge of ethical codes, guidelines, data protection and on the enforcement of professional & process standards, and is co-author (with Peter Jackson) of the book, Quality in Market Research: from Theory to Practice.
Judith Passingham
ESOMAR Committee Member, Chair of the Professional Standards Committee at ESOMAR
Judith Passingham has worked in the Market Research industry for over 35 years, in many  different roles from General Management, Client Account Leadership, Service Development, to Sales and Operations – on a Global and European basis.
She started her career at the British Market Research Bureau working on the TGI and various media measurements, then working at AGB, subsequently TNS where she ran the UK and then global panel division as CEO of 'Worldpanel ' and as Joint CEO of Europanel – a joint venture between TNS and GFK.
Judith was appointed CEO of TNS Europe and then following the WPP acquisition of TNS oversaw the integration of RI and TNS in Northern and Eastern Europe. In 2014 Judith joined Ipsos to run its Access Panel services where she drove service integration into one global entity, launched device agnostic interviewing and programmatic sampling.
In 2016 she took on responsibility for Ipsos's Operational capability. She retired in 2019 and volunteers for Pilotlight and for the Maple Lodge Nature Reserve.  In January 2020 she was appointed as Chair of the Professional Standards Committee for ESOMAR.